Types Of Slots - Understanding Different Slots Machines
You will find a lot of different casino slot machines, ranging from single and multi-coin machines to video slots and touch screen machines. It's crucial that you choose a variation that you can afford; otherwise, you won't be able to play much. Another thing to consider when looking at casino slot machines is that you have fun while playing.
Single-coin Machines
These machines are almost extinct now that there are slots which accept more things than coin. You will find the newest versions of the machines at most casinos because they are more entertaining than the old ones. Also, casinos usually generate more profit from the more modern devices than from single-coin slots.
Still, some of the more ancient casinos still possess single-coin machines, and gamblers can go there to play them.
Multipliers
Multipliers are machines that require more than one coin and payout according to the number of coins that you placed. The first multiplier slot machine was used in 1987, and it gave casinos the opportunity to make more money by providing opportunities for gamblers to bet with larger stakes. Let's say that a player bets a single coin and hits three sevens, the amount which he receives is 5$. But if he wagers two coins, then the winnings are equal to 10$ if the same combination appears. You usually get proportionate payouts on winnings, except the larger ones that have a bigger payout when you place a maximum wager.
Most casino slot machines are multipliers, and even though you could still bet using a single coin, most of the better players usually go for the maximum amount. All of the machine types that we are going to talk about until the end of the article are multipliers, so keep that in mind when reading the next paragraphs.
Buy-Your-Pay Machines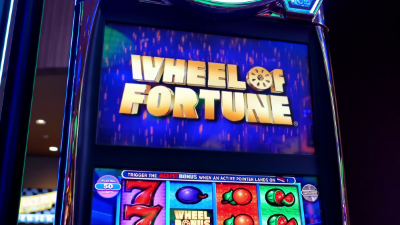 Even though these machines are a bit more complicated, it's easy to identify them when seeing the payout schedule located on the device's screen.
You can gamble by using a coin number that ranges between one and five. There are also different combinations which allow you to win and they depend on how many coins you used. A one coin bet may mean that the only winning outcome is three bars, so if you get three cherries, then there won't be a payout. On the other hand, if you use more coins, you can hit more combinations which will give you a payout.
Let's say that you are using a slot machine with three different winning combinations: bananas, cherries, and kumquats. You need to pay for each combination if you want to receive a payout if any one of them shows up. For example, a one coin wager means that you will get a payout for bananas. Two coins will guarantee you payouts for bananas and cherries, while three wagered coins mean that you will win money if any of the combinations show up.
Even though these machines are a rare sight, you can still find them at some places. However, you should keep in mind that if you fancy playing on this machine, then it's a good strategy to gamble with the maximum coin amount so that you have more opportunities to win.
Still, we think that you should avoid the buy-you-pay machines when possible because it's not pleasant when you win the jackpot when betting just one coin.
Multiple Payline Machines
Each slot machine has a line, and if there is a winning combination on the line – then it's called a payline. Classic slot machines had only one payline because they accepted only one coin, but that's not the case today. Before, there were many technological limitations which didn't allow gamblers to play with more coins, but now thanks to complicated computer software, slots can read paylines diagonally and in zig-zag. At the moment, you can find machines with more than 50 paylines, although the most common number is between 15 and 25.
New players are often confused by multi-payline slot machines, so we will try to explain to you the basics of betting on more than one payline. The key thing you need to remember is that you have to bet on the specific payline if you want it activated.
Slot machines usually have only one payline which is located in the middle of the screen. But there are some devices which offer gamblers multiple paylines so that they can be more engaged when playing. Most of the time, having an additional payline means that players need to place an extra coin to activate it. Then, the indicator will start flashing which means that the payline is available.
There are casino slot machines with various payline numbers – two, three, five, and more. Some online slot machines have slots with 30 and 50 paylines, so anything is possible.
Of course, you should know that playing with more paylines doesn't mean that you have a bigger chance of hitting a combination, but it certainly doesn't hurt try. Machines have various payout ratios that depend on the manufacturer and the rules of the casino.
Wild Play Machines
You can have a lot of fun when playing wild play machines because there is a possibility of doubling, tripling, or even quadrupling your winnings. In case your combination has a wild symbol, then your winnings are doubled. If there are two wild symbols, then your winnings are going to be quadrupled.
When you see three wild symbols, it means you have another winning combination. We recommend checking out the payouts for each machine that you use because they are often different.
These symbols were especially popular during the release of the Double and Triple Diamond machines by IGT. Players were quickly attracted to them, which meant that the casinos were making a lot of money.
Progressive Machines
Progressive machines are a group of slots that give you a joint jackpot which gets bigger each time someone makes a bet. This amount continues to rise until some lucky player wins it. After that, the jackpot resets and the whole process starts from the beginning.
You will find progressive slots at both online and land-based casinos. The percentage of a wager that goes into the progressive jackpot is different at each casino and can sometimes get to 15%.
Progressive casino slot machines are incredibly popular, so there are always bigger and bigger prizes which make the gamblers come back for more. If you aren't convinced of how big these jackpots can get, here is an example – the Megabucks jackpot was won in 2014 in the US, and the winner received 14 million dollars. Of course, this amount was achieved after a lot of time, and it's incredibly harder to win it. However, you will find many smaller jackpots which are much more attainable.
One thing that you should remember is that the payout for a regular win is significantly smaller due to the progressive jackpots. That's why when you play for the progressive jackpot - it's smarter to bet using the maximum allowed coins in order to have a shot at the big prize.
Now that online casinos are a big factor in the gambling industry, these jackpots are even more influential. Many casinos have added progressive jackpots to their arsenal of online promotions.
Big Berthas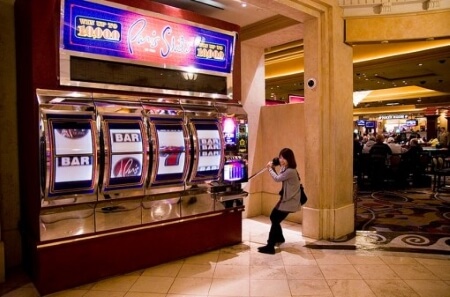 The biggest slot machines are also known as Big Berthas. They are located in proximity to the entrance of the casino so that they can make a more significant impact on people who walk in for the first time. They usually can three, four, or more reels, but don't expect huge payouts.
Multi-Game Machines
These slots give players the opportunity to change to another machine for games such as video poker, slots, video keno, and blackjack.
You can play at these machines using different denominations like quarters for blackjack and dollars for video keno.
Touch-Screen Slot Machines
The gambling industry also had to catch up with recent technological advances, particularly after touch screen devices gained popularity. Nowadays, you can find many slot machines that have a high-tech interface.
Many gamblers adore touch-screen slot machines, especially devices with the main screen embedded into a shelf or a table which means that the gambler has space to rest his hands.
Reel Slot Machines
Reel slot machines usually have three or five reels, each reel having 20 or 24 stops. But there are casino slot machines that have 4, 6, 7, or 10 reels. In the beginning, slots were mechanical, and you decided the outcome by pulling the lever, but now everything is done with a computer mechanism.
Video Slot Machines
Video Slots are represented by a computer program which simulates the spinning of the reels and the outcome of the spin. The biggest difference between video and reel slots is that the former can have more than five paylines, for example, some slots can reach up to 100 various paylines. Also, there are more in-play bonuses in video slots, so they are more attractive for gamblers.
Bonus Slots
Bonus games are another strategy that casinos use in order to attract new players. The gamblers can play these bonus games for free, and the payout is dependent on the initial bet. Scatter symbols, which can be found on some slot machines, have different rules. However, it's much easier to win with them than with standard combinations. The reward for a scatter win is most often free spins which can be a different number, but usually, you receive 15. The payouts from free spins are decided by your previous bets, seeing that you can't place a stake on a free spin.
Slots Tournaments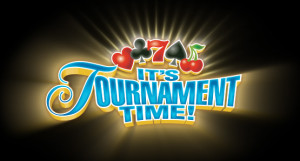 You can also find different tournaments for slot machines. The buy-in fee depends on the size of the prize pool – the bigger the prize money is, the greater the buy-in cost. The most common buy-in is 25 dollars, although there are many other different variations. Sometimes the prize pool gets enormous – not so long ago there was a guy who won more than one million dollars from a slots tournament.
Online casinos and slots websites often hold slots tournaments. They will provide you with all the information that you may need such as the starting time of the tournament, the size of the buy-in, the prize pool, and other similar details.
For people who are looking to spend a small amount of money, there are slot machine tournaments with smaller buy-ins.
Casino Slot Machines According to Their Reel Number
You probably know by now that the spinning mechanisms on the front part of the machine are called reels. Before, they were metallic hoops which actually had an influence on the outcome, but now they have a decorative function. Today, most slot machines have video screens instead of reels.
Classic casino slot machines used have 3 reels, but the modern models are using five. Thanks to those extra reels you can win a bigger jackpot due to the fact that it's harder to win with more reels.
Charles Fey was the inventor of the three-reel classic slots, and you can still find models in brick-and-mortar casinos, but they are there mostly for nostalgic purposes. Not so long ago, five-reel slots were the future of slot machines, but now even they are becoming outdated. More symbols mean more combinations and paylines which are good for the player. If you want to learn more about different slot machine types, here are some interesting articles:
7 Reel Slot Machines
6 Reel Slot Machines
5 Reel Slot Machines
3 Reel Slot Machines
Casino Slot Machines According to Game Type
Slot machine games have come a long way in the recent years – from 3 reel slots to 3D video games with great graphics and sound. 3D Slots are considered the new generation slot machines because their slot games have 3D storylines which are in different genres – from romance to adventure.
There aren't many online slot machines at the moment, but that is most likely going to change in recent years. There are many different slot variations around the world, but here are some of the most popular ones:
Video Slot Machines
3D Slot Machines
Fruit Machines
Pokies
Casino Slot Machines According to Denominations
This is probably the easiest way of categorizing slots. There are some machines which accept only pennies, while others accept only dollars. You can also find slots that allow players to use various denominations. Here are some of the most common denominations that you can see at online slot machines:
Pennies
Nickels
Quarters
Dollars
High Limit
Class II and Class III Casino Slot Machines
Many gambling jurisdictions in the USA place casino slot machines into different categories – class II and class III games. Class II games are located in smaller casinos, usually in states where Native Americans own the casino. Class III games are the regular slots that are located in popular places like Las Vegas, Atlantic City, Reno, and many others.
When we say that a slot machine is Class III, we usually mean that it's a "Vegas-style" slot. Each spin is independent, and the outcome is decided by the reels so that anything can happen.
In Casino II slots, you don't play against the house, so they resemble lottery games and bingo. You play against other gamblers in the race for a jackpot. Even though the game looks exactly like a classic slot machine, the math behind it is like a bingo game because the outcome depends on the results of others.
Brick-and-Mortar vs. Online Slot machines
The argument which slots are better has been going on for quite a long time. In a way, online slots are similar to the classic Vegas-style machines, but the biggest difference is that you play them through the Internet.
One of the biggest pros of online slot machines is that they have greater payback percentages because they don't have to pay overhead costs like many brick-and –mortar casinos.
However, one of the negatives of online casinos is that you don't receive your money instantly. Instead, they go into your casino account, so you have to make a withdrawal which can be a time-consuming process. The processing time for the withdrawals usually depends on the online casino and the payment method that you have selected.
Final Verdict
Casino slot machines are one of the most popular games at many casinos. They offer a wide variety of games and entertainment, as you probably found out when reading this article. Slots have come a long way since their introduction to the casinos. We saw them evolve from 3 reel slots to 7 reel slots, increasing the overall number of paylines in the process. You can bet on them using all kinds of different denominations which also affect the potential payout. There are all sorts of slot machines for you to try out, so if you think that slots are generally boring and don't have any variety, then we are forced to disagree with that.
looking for entertainment?
Choose The Best Casino For Your Needs