Helpfull Advice for Beginners that are just getting in to Blackjack
Many people think of Blackjack as one of the classic table games in the casino, so in this article, we will tell you more about Blackjack rules and will give you some Blackjack tips. Even though most experienced punters find Blackjack rules easy, the same can't be said about beginners. That's one of the main reasons why so many people are interested in playing the game. Here are some basic facts about the Blackjack rules:
You can play the game with one to eight card decks – each one having 52 cards
The ace can count as either 1 or 11 points. Cards from two to nine represent their face value, but face cards count as 10 points.
Two cards represent your hand, and their sum is equal to the value of the hand. The biggest hand you can get in the game is an ace and a face card which counts as 10 points, and that hand is called "Blackjack."
Blackjack rules are relatively uncomplicated – if your hand has a value bigger than 21, you lose the round. When the dealer's hand is closer to 21 and not larger than 21 – you lose once again.
Casino
Slots
License
Features
Details
Bonus
Action

Casinos and Features

1

bet365

96

slots

UK Gambling Commission License #39584

Huge Game Selection
Biggest Game Variety
Live Games Available

UP TO $100

In Bet Credits*

Read Review

2

888 Casino

100

slots

UK Gambling Commission License #39198

Huge Game Selection
Biggest Game Variety
Live Games Available

UP TO $100

+120 Free Spins

Read Review
Blackjack Tips before Playing
It's always a worth it to check the casino policy and what Blackjack games it has. Here are some of the crucial things to which you need to pay attention:
Always know what the minimum bets are.
See if the dealer is dealing the cards, or if there is a dealing machine. This won't make a difference if you're a beginner, but more advanced players can modify their strategy according to that.
Try to sit at a table with fewer people because you will be more relaxed, unlike at the more crowded tables where things are usually difficult to follow.
Your stake should be appropriate to your bankroll. You can use the following guideline – have a bankroll which is 40 times larger than your stake. The minimum for a bankroll according to many experts is 20 times your stake.
Each gambler needs to learn how to manage a bankroll. That's why discipline is an essential part of any betting activity. You should always know how much money you can afford to lose, and never choose your bankroll at random.
See if the casino odds for Blackjack are 3-2. Some casinos will give you 6-5, but that isn't ideal because more than 1% goes back to the casino.
Notice if the dealer likes to stand on "soft 17, " and if he does, then that's good for you. However, we would advise you never to stand on "soft 17" so that you always have a chance of improving your hand.
Blackjack Options Given by the Casino
Some casinos like to put signs at the Blackjack tables which tell you about the house rules. If you can't find a sign or a note, the best way to learn about the rules is to find an empty table and talk to the dealer who has to tell you about the rules. These are some of the most popular house rules:
Double down after splitting
Re-splitting of aces
Early surrender
Soft doubles
Remember that these rules a significant so that players can minimize the house edge that the casino has against them when playing Blackjack.
Playing Blackjack
The dealing machine or the dealing shoe (depending which one is used) is located at the right side of the table. Most of the time, you will place a bet inside the betting circle or box. There are separate boxes for side bets if the option is available.
When you sit at a Blackjack table, you will usually be asked about the denomination of your chips. We think that it's best to choose the same denomination as your bet size in order to make things more comfortable.
Before you receive your two cards, you will need to place at least one chip in the betting circle/box. Then, the dealer will give each player two cards, one of which is always face up. The other one is placed in the opposite position and is known as the "hole card." If you see an ace in the dealer's hand, you can make an insurance bet which pays out 2 to 1 if the hole card is a 10 pointer.
You don't have to make an insurance bet, and if you decide to do, the amount can't be larger than 50% of the initial bet. When the dealer's card is an ace, you can place this insurance bet on the dealer having a Blackjack. If he really has one, then you get 2-1 odds on your bet. That way you end up even after the hand is played instead of losing money. But if the dealer doesn't have a Blackjack, you lose the insurance bet and continue playing with the initial one.
Regardless whether you're a newbie or an experienced player, we would recommend that you never make insurance bets if you're not counting cards.
If the dealer has an ace or a ten facing up, they will look at their other card to see if they have a Blackjack, and if they do, their hand gets turned instantly. If the dealer has a Blackjack, the only way you can't lose is if you have a Blackjack yourself, or you've placed an insurance bet.
In some places around the world, the dealer draws only one card which is face up but draws the second card after everybody else has played, so don't know if he has a Blackjack or not, but you still have to play.
The vast majority of the casinos like to play an "up-game," which means that the cards are put next to your wager face up, and you can't touch them. Of course, there are some classic casinos which like the opposite of that, also known as the "down-game." In that case, the cards are put face down and you can take a look without anyone else seeing them.
The dealer's face up cards initiates a lot of guessing from the players who try to find out what the other card could be. If the dealer has a 7 or higher, it's highly unlikely that they will bust. That's why you need to try and get at least 17 if you want to have a good chance of winning the hand.
When deciding your next move, you have to tell the dealer by saying "hit me" if you want another card or "stand" if you don't want additional cards.
Here are some Blackjack tips that may be useful to many beginners:
If the casino has an "up-game" policy, you shouldn't touch your cards in any circumstances.
You also aren't allowed to touch your chips after the bet is made.
Don't swear at the dealer or other players if things aren't going your way.
Keep calm and don't switch your strategy, even if it's not working out so far.
Don't raise your stakes when you are not winning because you will probably end up losing more money.
Should You Listen to the Dealer in Blackjack?
If you are playing Blackjack at a brick-and-mortar casino, the dealer can give you Blackjack tips if you ask them or when you look uncertain. It's nice to know that you have this option if you need it.
However, sometimes the advice of the dealer can be wrong, so always proceed with caution if you want to ask them something. The best strategy is always to trust yourself and not the dealer. That way, you won't be angry at someone because you listened to them and lost.
Hit or Stand Blackjack Rules
It's important to notice the dealer's face up card because your strategy can depend on this. There are three primary Blackjack rules that you must know:
If the dealer's face up card is at least 7, you have to strive for a total of 17. The next card for the dealer will give them a made hand so that they won't receive other cards.
If the dealer's face-up card is between 3 and 6, you shouldn't risk too much because it's far more likely that he will go bust. That's because they need to draw another card and if it's a high one, then there is an unyielding possibility that their hand will go above 21.
If the dealer's face up card is 2, then you should strive for having at least 14. Then simply stand and wait for the dealer to go bust.
On some occasions, even players who have played the game for a long time are unsure of their next action. That's the exact reason why we have decided to tell you some Blackjack tips about building a strategy according to the dealer's hand so that you can minimize the house edge and have a better chance at winning.
The player can be extremely pleased if the dealer has cards between three and six. In that case, the probability of the dealer going bust is the biggest. According to statistics, the best dealer card from the point of view of the player is 5.
Logically, high cards for the dealer like K, Q, J, 10, 9, and ace are bad for the player. Statistically, the dealer has a much better chance to have more points than you if his first card is one of those mentioned above.
In the middle ground, we have cards like 7 and 8, but you need to remember that there is a huge ability that the dealer may end up with at least 17 in his hand.
Splitting Pairs in Blackjack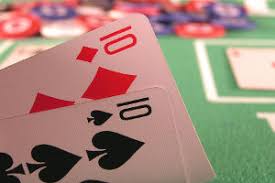 Gamblers can split hands so that they won't lose the whole hand because they win one and lose the other. That way you can decrease your loss and make a bigger profit.
Most new casinos will allow their customers to split hands or double down. Splitting can be applied when you have two cards of the same value, so you divide them into two different hands and play each of them separately.
When splitting, you need to make another bet which is the same amount as your initial one. Then, the dealer will separate your hands, and you begin to play with each hand.
Of course, the only time when you should split your hand is if the odds after the split are bigger than the ones before. It's difficult to know that beforehand, so here are some general Blackjack tips in regards to splitting:
If you have two aces, you should always split, except when you're participating in a no hole-card game and the dealer has an ace visible. Another good hand to split is a pair of eights, but the dealer shouldn't have a nine, a ten, or an ace.
Split the hand if you have two deuces and the dealer has something between two and seven. The same strategy can be applied if you have two 3s.threes In the case of two fours, you can split if the dealer has a 5 or a 6 facing up.
Don't ever split two fives.
Two sixes should only be split if the dealer has a three, a four, a five, or a six. The same applies if you have two sevens and the dealer has a seven himself.
You should split two 9s if the dealer has a card between three and nine (with the exception of a seven).
Blackjack Soft Totals
A soft hand is a hand which has an ace in it, so it's important that we tell you some Blackjack tips about it as well. An ace can count as a one or eleven, so you have two choices that can better your hand.
If you have a hand with an ace and two, three, four, or five, the ace can also be counted as one, which means that you can hit until the total amount of your hand reaches at least 17.
If you have a hand with an ace and a six, you can also improve this hand by taking a hit. Once again, you should hit until you reach at least 17.
If you have a hand with an ace and an eight or a nine, your total score is 19 or 20, so it's best if you simply stand.
Doubling Down – Soft Hands
As we mentioned earlier, soft hands are the ones that have an ace in them. That's because the ace has two different values – it can be a one or an eleven. It's not so often that you double down when you have an ace, that's why the process isn't very complicated. Here are the main Blackjack rules when doubling down if you have a soft hand:
If the total of your hand is nine, then we would recommend doubling down if the dealer's face-up card is a three, a four, a five, or a six, but never double down if it's a two, a seven, or an eight.
If the total of your hand is ten, then we advise you to double down if the dealer has a card between two and nine.
If your two cards add up to eleven, the best thing to do would be always to double down, except when the dealer has an ace.
Surrender in Blackjack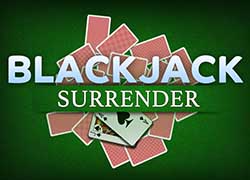 Many casinos are giving the players the option to surrender. It becomes available after you have been dealt your first two cards and know what the dealer's face up card is.
Some of the casinos have a rule where you can't surrender if the dealer has an ace.
You can benefit from this option unless you are counting cards. Here is when you should think about surrendering:
If the total of your hand is 15 or 16, and the dealer has a 9 or a 10 as a face-up card.
If the dealer has an ace and your two cards have a total of 15 or 16.
These are the only two situations where you should consider surrendering.
Late Surrender in Blackjack
Another part of the Blackjack rules is the late surrender.A minority of the casinos will allow you to use a late surrender which means that you can give up at any point during the game. You should apply the same strategy as for the normal surrender.
Side Bets in Blackjack
   

Under of Over 13

– With this bet you can predict if your hand will have a total value of more or less than 13. However, you should know that if you make this side bet, the ace will always count as a 1 and the Blackjack is 11. If you have two aces, the casino will usually give you a 7-1 bonus.
    

Perfect Pair

 – This bet has become very popular, and many people enjoy playing it. You can place a wager that you will have a pair in your original hand, and the payouts are different at each casino, but the most common ones are 5-1 for a mixed pair, 12-1 for a same color pair, and 30-1 for a perfect pair. Even though the odds seem tempting, we would suggest you stay away from this bet.
    

Five-Card Trick

– Not a lot of casinos offer this wager which is basically a bonus for players who manage to get a five card hand without going bust. Most of the time, you won't have to place an additional wager for this bet to active, but you are forced to make a decision between winning the hand or getting the bonus. If you are facing such a choice, our suggestion is to focus on winning the hand instead of getting the bonus.
    

Magic 7s

– This is another popular wager that lets you bet on getting three 7s in a row. If they are of the same suit, then you win a big jackpot.
 
Blackjack Betting Patterns
The possibility of you winning or losing is the same, regardless whether you make a big or a small bet. But that doesn't mean that you shouldn't change the size of your bet and manage your bankroll in order to minimize losses during the time you play.
Many gamblers increase the amount of their bet after losing the last hand, which is a big error. Your goal when playing should be to try and maximize the profits while minimizing the losses.
That's why raising the stakes when you win and lowering them when you lose can be a sound strategy. Another one of our Blackjack tips is always to bet the minimum amount so that you can keep losses at a low. It's also worth to try and raise the bet if you hit a winning streak.
Counting in Blackjack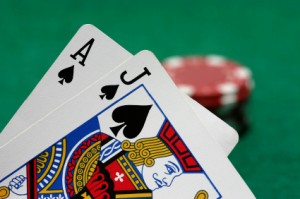 If the dealer has a shoe to deal the cards, then you need to know that those cards which are on the table won't show up again. Many gamblers think that counting cards means to track all of the cards that are on the table, but that is false.
Players who count cards follow the ratio of high cards which the dealer deals.
If there are many high cards left in the dealer's shoe, then you have a better chance of getting one. The opposite is also true – if there are more slam cards left, your situation doesn't look so good.
This could be a good strategy for you to use. You can also track all of the dealt cards by separating them into groups in your mind, for example:
    High Cards – Aces, face cards, 10s, and 9s
    Low Cards – 6s, 5s, 4s, 3s, and 2s
    Neutral Cards – 7s, 8s
The most popular method of tracking cards is to subtract one from the total when a high card is dealt. If you see a low card, then add one to the total amount. If it's a neutral card, don't count it towards the total.
Positive Positions and Changes of Strategy in Blackjack
The player has a positive position when the count, divided by the remaining decks, is at least +8. It doesn't happen often, but if it does, you better have a good strategy for it.
Stand on 12 and 13 if the dealer has 2
This sounds logical because it's very likely that the dealer will break if he has a two and there are other high cards.
Double down with 9 against dealer's 2 or 7
There is a big chance for you to get a total of 18 and for the dealer to bust, so make the best use of it.
Surrender if you have 16 and the dealer holds an 8
This is the best option in this situation because it's very unlikely that you will get a hand-winning card, and it's also unlikely that the dealer will break.
If you can't surrender, another option you have is to stand on 16 if the dealer has a 10.
If the count is at least +12, it's worth it to take insurance.
Negative Positions and Changes of Strategy in Blackjack
When many high cards were dealt in the beginning of the game, and the count total is -8 or less, then we call this a negative position. Our advice is to play with the lowest possible amount here.
Never double down on a 9, except if the dealer possesses a 5 or a 6
If you decide to double down, the chances of you getting a decent total or the dealer busting are slim
If the dealer has a two, hit if you have 12, 13, or 14.
You will definitely need to improve your hand in order to win.
Never surrender if you have 15 and the dealer has a 9.
You have a bigger chance of succeeding with 15 than if you decide to lose one half of your bet.